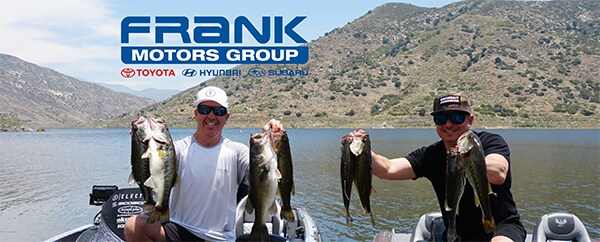 I know now that fishing boats can go fast. Like lose two of your ball caps in one session fast! Yes, I had to learn the hard way, but man oh man was it a thrill of an experience to have had.
I wasn't prepared for that acceleration off the docks. Maybe it was the roaring motors that was so reminiscent of those buggy cars everyone's uncle had back in the hey day as child that had me believing we were going warp speed, or maybe it was the brisk wind smacking against my face making me realize, oh yeah duh, that's what sunglasses are for also, eye protectants against the wind.

Speaking of sunglasses, my first fishing trip ever was a super eye opening experience. With Pro Angle Todd Kline and Frank Fornaca's grandson Marco Fenelli essentially giving me a tour guide I was able to learn a ton. From landscaping, to water depth to finding the actual bass, you just don't really understand how intricate it can all be, especially with how easy these two anglers made it seem.
My favorite part was learning about the terminology like when fish would "Blow up!" (jumping out of the water) or tossing in the "Wake Bait" (bait used to wake up Bass). These little trivia helped learn about the culture of fishing as each word is essentially coded and very descriptive.
I definitely see what it means now when it's said that fishing exercises ones patience but I also see how it goes hand in hand with making ones ethos much more stronger when applying patience from fishing to every day life. I would've never thought of fishing as a mental exercise before this and am extremely grateful for the opportunity to have had my first fishing experience with Marco Fenelli & Todd Kline.

CHECK OUT OUR OUTDOOR WITH TODD KLINE VLOG BELOW