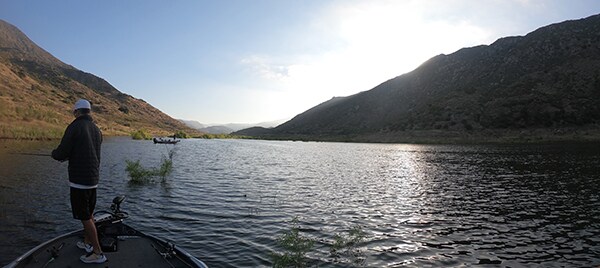 Frank Toyota - Let's Go Places and Let's Go Outdoors more! We've teamed up with Professional Bass Angler and former Pro Surfer Todd Kline who agreed to be our first ever Outdoor Ambassador. It's all part of our initiative to help accentuate and promote an active lifestyle that San Diegan's are already accustomed too.
He's now in the beastly tried and true Toyota Tundra in which he hauls boats and campers all around So Cal.
We caught up with him after he took a quick trip to Japan and got this awesome Q&A from us to him. Here's what we learned!
1. Place of Birth? Year? Ft. Lauderdale, FL
2. Can you remember your first time fishing? Who were you with? When did you fall in love with it?
I can't remember my first fishing trip but I have many memories growing up in Florida fishing and making trips to the Bahamas. I loved the fact that it was so relaxing and every trip was different. Connecting with nature and the unknown of what that next cast might bring. As a kid growing up in FL, I would come home from school, jump on my bike with a bag of lures and my fishing pole - Head a mile in any direction as there were canals and lake every where, throw my bike in the bushes, and start fishing.
3. Can you remember your first time surfing? What sparked it? What was special about it during that time and what is the sport like now compared to then?
I started surfing at 13 years old. Growing up in South FL, the odds are not good to find waves but it made me appreciate it even more when we got to surf. My older brother started surfing and then I began to tag along. I will never forget the first time I rode a wave. Looking back at it now, the wave was probably 5 feet on the face but it felt like I dropped down the face forever. The speed and the feeling of riding down the face was the best feeling ever. Surfing is very similar in many ways to fishing for me. It is a great place to free the mind, escape from the hustle and bustle, and just have fun.
4. Can anyone fish and surf?
I encourage everyone to try surfing and fishing at least once. It won't be for everyone but it might just change your life like it has mine.
5. When planning trips, how important is it to go along with the seasons? Or is it just so easy with California living?
Planning my trips for both surfing and fishing has always relied on the weather. Surfing is what brought me out here from Florida and the waves, weather, and fishing has kept me here.
6. Best advice when approaching beaches you've never frequented so as to not clash with locals? Or is common sense all that is needed?
When getting started surfing, go to the user friendly beaches. This means both the waves and the locals. I would recommend asking your local surf shop where the best beaches/waves are in your area for beginners. There are many beaches with advanced waves and local surfers. You don't want to clash with either to alter the experience.
7. What would you tell someone who wants to get into fishing?
If you are interested in fishing, you must have patience. That's why it is called fishing and not catching. You will have trips with no fish catches and even sometimes no bites. A major part of fishing is just the experience of being on the water and connecting with nature. Catching fish is a bonus. Don't get me wrong, it bums me out a little when those rare days of not catching a fish happens, but I still enjoy every single trip. I recommend going on a charter in the ocean or calling a guide on the freshwater. This will allow you to learn from an expert and you will know quickly if fishing is for you.
8. What would you tell someone who wants to get into surfing? Does age matter?
If you are interested in trying surfing, there are some great surf schools/instructors to help you. Also, you can rent longboards from your local shop. Make sure you get a board with a lot of floatation and that is longer. This helps with stability and will build your confidence. If you try for the first time and you are above the age of 30, make sure you do some good stretching prior to paddling out. Stretching is key for all surfers but more important as you age.
9. Across all sports, how well does everything intertwine? I know you've taken Brian Shaw fishing, amongst other athletes. What are the virtues that are common across the board between the athletes you've met? Is there such a difference between extreme sports athletes, (skating, surfing, speed boating and baseball, basketball, football?)
In looking at all sports and the athletes who compete, the common thread is the desire to win. It does not matter if it's on the field in the sport they play or on the water fishing, they want to win. Athletes respect athletes from other sports and this helps to connect you with new friends and meet some great people. I have had the chance to take players from the NBA fishing and take players from the NFL surfing. This was awesome and it was cool to hear the NFL players talk about how hard surfing is and how it works muscles completely different from football. They said it whooped them.
10. When planning your set up, for fishing, how important is it to have everything lined up? (Example, is a boat needed, a truck for towing, the fishing poles etc. and how should one plan this out as a lifestyle? Does it take about 10 years for it to come all together or can someone make the lifestyle switch just like that?
Like anything, there are levels to what you do. Fishing is no different. You can get the bare minimum such as one rod and bait to go walk the bank and catch fish. For me, it has been a lifelong journey and now I am fortunate to make a living doing it. From tournaments, guiding, seminars, etc., it is a full time job. With that said, my preparation now is no longer a bicycle, one rod, and a bag of baits like when I was a kid. Preparation is key and I strive to have the best products that will allow me to reach my full potential. That includes all of my gear from the Toyota Tundra all the way down to the hooks I use.
11. How important is it to meet other like-minded fishermen, surfers when headed out for a day?
I love meeting people who also share the same passions such as surfing and fishing. I have been blessed to have success with both and I now love giving back to those sports to introduce others and to help give them advice.
12. When did you go pro in surfing? And bass fishing?
I turned pro at 18 with my surfing and turned pro with my fishing 2015.
13. When did you take on your first Sports Announcing gig?
I was always the kid talking in class and it was natural for me to put a mic in front of me and start calling/commentating surf contests. My first event I called I think was 1999 in Fiji at the Quiksilver Pro.
14. Would you like to list the schools you've attended?
I went to high school at South Plantation High in FL.
15. What other outdoor activities do you love to do? Why is it important to try new things and to explore outdoors?
I love nature and have always done something outdoors. But now, most of my time is still on the water whether it is surfing or fishing, thats where you can find me.
16. What are your Favorite outdoor spots to visit, anywhere in the world? Where would you recommend people visit at least once in their life?
I have been fortunate to see many place and countries. One of the most beautiful countries is Japan. I have been there 23 times. I really enjoy the food, landscape, and people. Most of the imagery we see of Japan is the large city of Tokyo. However, the outside areas are awesome. Beautiful mountains, birds, rivers, clean oceans, etc. It is awesome. Great islands to the South with warm water and good surfing. The bass fishing is good in Japan as the current world record is held there. But the best part of all, is the culture The people have a great respect for one another and it makes for a special place. I highly recommend visiting Japan.
We're thrilled to be going on our latest adventure and journey with Outdoor Ambassador Todd Kline. We know much of his professional insight can be taken into all aspects of enjoying the great outdoors!