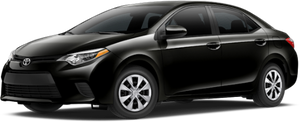 Frank Toyota makes returning your current Toyota straight forward with a few simple steps:



STEP 1
Give Frank Toyota a call before your lease ends at (888) 267-3508. Our Lease-End Specialists will review the details of your lease agreement with you, such as your actual lease-end date. 
STEP 2
Assess your vehicle's condition using the Wear and Use Guidelines. Un-repaired damages that exceed normal wear and use may result in charges at the end of your lease. Review your mileage allowance to assess any excess mileage charges at lease end.
STEP 3
Make any necessary repairs. We can offer help with cost-effective repairs if needed. Making repairs upfront may save you a bill later on and may even be covered by your insurance policy. Be certain to keep all of your receipts for any repairs made and see your insurance policy for coverage.
STEP 4
Schedule an appointment with us by calling our Toyota Lease Return Specialist at (888) 267-3508 or fill out our Schedule a Lease Return form.
STEP 5
Bring your clean, leased Toyota to our dealership. Remember to bring all keys, Owner's Manuals, and any original equipment removed from your vehicle to the appointment (cargo cover, headrests, spare tire, etc.). An independent inspection company will perform a final inspection after you turn in your vehicle.
STEP 6
Make any outstanding payments. Remember to cancel any electronic payments and pay outstanding lease payments, late fees, property tax and any other charges that may be due under your lease agreement.
---
Once your independent inspection is complete, charges may be due if your vehicle exceeds normal wear and tear and/or  if you have exceeded the mileage limitations in your contract.. Toyota Financial Services will send a final statement after the leased vehicle is returned.
A disposition fee will be applied at lease end to help cover the cost to dispose of or sell the vehicle. The fee will be waived on your current lease if you finance or lease your next vehicle with Toyota Financial Services through Frank Toyota.
As set forth in your lease agreement, these charges, along with other charges such as any remaining liability for unpaid citations, taxes, etc. are payable to Toyota Financial Services.
Please refer to your lease agreement for a description of your rights and obligations upon termination of your lease.